Antecessor Hypotheticum
SCIENCE magazine is making big buzz with their article, "Ancestor of All Placental Mammals Revealed." It shows a near-photo-realistic artist's conception of what the animal probably looked like, with an inset photograph of an obviously similar fossilized skeleton.
But if you read the small-print picture caption, it actually says that,
Although generally similar in appearance, the shrew-sized Ukhaatherium nessovi (inset), which lived alongside dinosaurs, wasn't a placental mammal.
And the article begins with the sentence,
The ancestor of all placental mammals — the diverse lineage that includes almost all species of mammals living today, including humans — was a tiny, furry-tailed creature that evolved shortly after the dinosaurs disappeared, a new study suggests. [Emphasis added.]
This sort of thing has been going on for decades. There's nothing new about it. Dream up an ancestor and present it as if it's an important discovery. It's an activity that seems pretty reasonable in the context of there being lots of fossils of unfamiliar species that lived in the distant past. But here's the context in which it's not reasonable: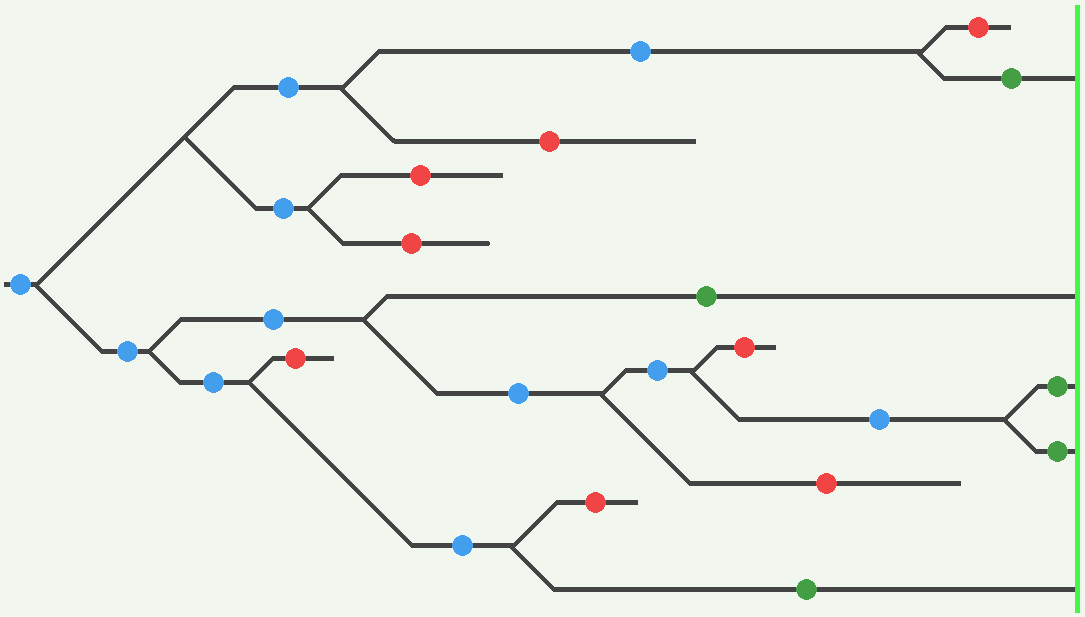 The above diagram is an evolutionary tree I just now made up to illustrate the issue. The light-green line represents now (the present). The green dots represent living species, the red dots represent terminal species (those that went extinct), and the blue dots represent ancestor species (those that branched into multiple species farther down the road).
Now, if you didn't know anything about the fossil record, and you started digging up fossils and examining them, what would you expect to find, with regards to the above color classification? Reasonably, you would expect that some of your fossils would be of ancestor species (blue), some of them would be of terminal species (red), and some of them would be of living species (green).
So what would you think if, after a lot of fossil gathering, you realized that you were finding only terminal (red) and living (green) species, but no ancestor (blue) species? You would think the only thing a reasonable person could think: that the ancestor species aren't being found because they never existed.
Thanks to the long and hard work of generations of paleontologists (and much to their chagrin since just about all of them are fiercely devoted to Darwin's theory), and thanks to the peer-review system that at least does a decent job of keeping outright fabrication out of the fold, you don't need to dig up your own fossils today to see this problem very clearly. Just do a Google image search on "evolutionary tree" and go to the source articles. Or take a drive to your local library and browse through some books on evolution looking for evolutionary tree diagrams.
Some of these diagrams depict all of biology and all of time, while others show a small portion of each. But what they all seem to have in common is that the parts of the tree where the ancestor species (blue dots) would go are vacant. Or they appear to have a species there, but when you dig into the article a little, you find that the picture is just an artist's conception of what the species may have looked like. And the scientific name is one that has been made up for that species — a species that we know must have existed, but haven't actually found in the fossil record yet.
Question: What does it mean when one of most obvious implications of a theory isn't found in the evidence?
Does it mean that Noah led the animals onto an ark, two-by-two? Probably not.
Does it mean that a talking snake convinced the first homo sapien to eat a piece of fruit that gave her special knowledge of "right" and "wrong?" Very doubtful.
What it means is that the massive, overwhelming evidence for Darwin's theory is actually a massive, overwhelming fiction, created by scientists and educators who are intellectually crippled by a massive, overwhelming phobia that the stories of Arks and Edens they heard in their childhood are somehow going to come back into their lives, wrecking science and society.

See also:
Everything You Need To Know About Haldane's Dilemma
&
Mosaics
&
How Religion Distorts Science
&
Antecessor Hypotheticum
prev
next