FaceBook Messenger — Why I Don't Use It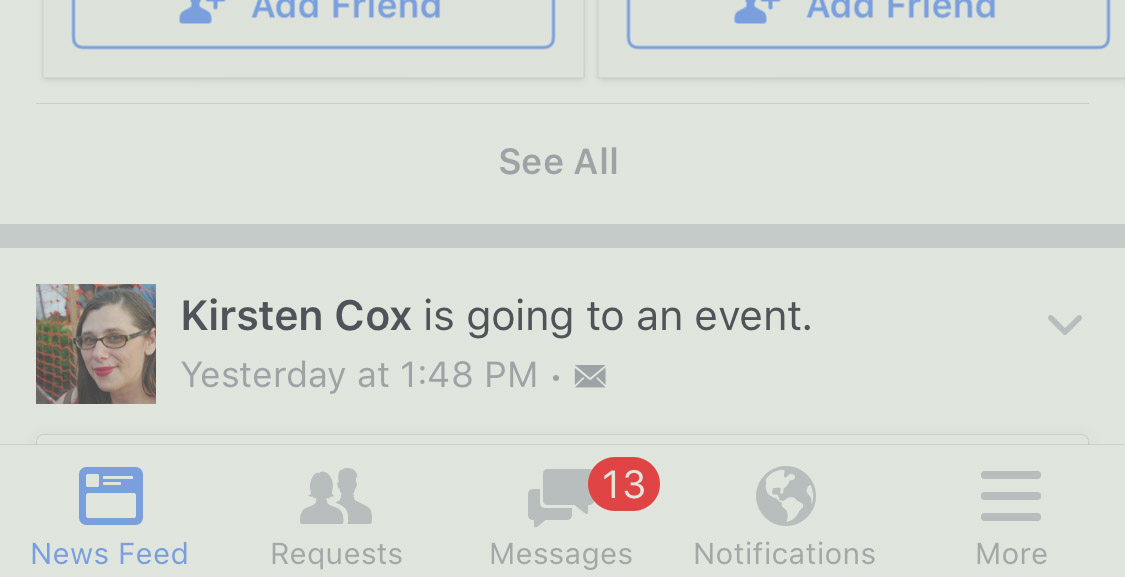 I use FaceBook on my iPhone. I like it. I plan to continue using it, far into the future.
But I don't use FaceBook Messenger. Why not? Do I dislike the app? No, I've never used it at all. It might be just fine, as messaging apps go.
It's really a matter of principle.
Before FaceBook Messenger was a separate app, it was just another tab in the FaceBook app. I didn't use it much, because private messaging wasn't really the point of FaceBook. Do I really need yet another messaging platform? After finally getting away from AIM after all these years, and standardizing on Apple's iMessage (which seamlessly mixes SMS into its functionality), and still having e-mail, of course — I really didn't feel like using FaceBook as a tool for sending private messages. But if someone sent me one on FaceBook, I would reply. If it turned into a back-and-forth conversation, I would try to move it to i­Mes­sage/­SMS.
One day I was in FaceBook, and I saw the red badge with the number "1" on the messages tab. Aha, someone sent me a private message. I tapped the tab, but this time, instead of bringing up the private messaging interface, it showed only a static ad for a new app: FaceBook Messenger. I did not download the app — not because I was automatically dead-set against it, but because my general policy is to not immediately download new apps when told to do so by an existing app; I always wait a while (days or weeks) until I feel I can make a more informed decision.
Soon, I discovered an insidious "feature" of FaceBook's now-nonfunctional Messages tab: It accumulates a badge-count of waiting messages, but never lets you see any of them until you download FaceBook Messenger and start using it. So now I have a permanent, slowly increasing, red badge in FaceBook, daily taunting me with the knowledge that my friends and associates have sent me over a dozen messages that I used to be able to see in the FaceBook app, but now cannot.
But that's not the worst part. That's not the reason that I adamantly refuse ever to get FaceBook Messenger. The worst part is that FaceBook lets all my FaceBook friends send me private messages with no indication that these messages aren't being received, with no indication that the person they're messaging isn't using, has never used, has never even logged-on to, has never launched — indeed has never even downloaded FaceBook Messenger.
The powers-that-be at FaceBook are perfectly OK with letting my FaceBook friends (i.e. most of the people I know and interact with in my life) think that their messages to me are arriving normally. When you send an e-mail to an inactive or non-existent address, it bounces back with some sort of notice that the intended recipient did not get the message, so you know that you need to try again to contact that person, by some other means. But on FaceBook? No such thing. My punishment for not dutifully downloading/using FaceBook Messenger is that all my friends will think I'm ignoring their FaceBook messages — until and unless I specifically tell them otherwise.
So I continue to use FaceBook, but as a matter of principle I will probably never download FaceBook Messenger. My personal friends' ability to reliably contact me is not something that any company should ever hold hostage, in order to make me download their latest app (even if it was a great app, and not just a pointless replacement of existing private-message tech­nol­o­gy).
If you're in the business of facilitating personal communication between networks of close friends and associates, treat that as a high privilege, due your full respect. All that's needed to show such respect is a simple auto-reply: "Your private message was sent, but the recipient has never signed-on to FaceBook Messenger, and so probably will not see your message. If this message is important, you may want to attempt to contact the recipient by phone, SMS, or e-mail."

prev
next