And now for the promised continuation of Moralism.
Quitting
HOW many times have you heard this one:
"Quitters never win, and winners never quit."
It's a cleverly worded aphorism that walks hand-in-hand with the also-popular "persistence pays," and the ubiquitous "never, ever quit."
I'm skeptical, though. Something's wrong with the message.
I think there is some minority of the population who are the quitters that never win. And I think there is an even smaller portion of the population who are the winners who never quit (or at least not until they've securely won). But between those two groups is a gigantic group that the aphorism slyly omits: those who never quit and never win. Those who spend their whole lives trying unsuccessfully to become winners, and who then die.
Let's diagram it: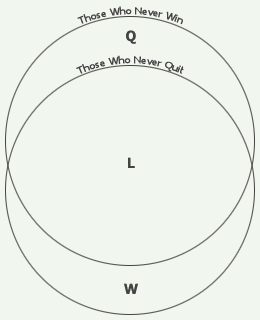 Q — quitters who never win
W — winners who never quit
L — losers who never quit and never win
What this diagram illustrates is that quitting isn't the same thing as losing. The people who push the "never-ever-quit" message would have you believe that quitting is losing; in fact, that it's the ultimate form of losing. They're wrong. Suppose I join the chess club, lose most every game I play, and don't seem to be improving much even after several months. Then I quit chess altogether and go join the military, where I perform excellently. Question: Am I now a successful soldier — or am I the ultimate loser chess player, vainly trying to mask my chess inadequacy with army maneuvers? Or, what if I didn't join the military, but quit chess to spend more time hiking in the woods and watching TV? Does that make me the ultimate loser chess player? I can be judged so only within the premise that people in general are supposed to play chess, as a dictum of absolute morality.
And so you'll observe that this quitting-equals-losing mentality is pushed whenever the activity you quit is something that the pushers desperately want you to keep doing. Take suicide. If you've spent decades trying to be successful, and finally realize that it's probably not going to happen, and you then suicide, is that losing? Or is it just quitting — moving on to what comes next, since you weren't able to make things work for you here? Society strongly discourages suicide, and insists that you should keep trying to succeed. Does society do this because they somehow know that your success — despite a long-suffered mountain of evidence to the contrary — is just around the corner? No. What they know is that they want you to keep trying because, as long as you do, you're providing grunt work on which society depends. Whether you ever reap a level of success from that work that would make it worthwhile to you is beside the point. It's worthwhile to them that you keep providing whatever your work provides, as long as you physically can. Society will never suggest that you stop playing its lottery, no matter how bad the odds of picking the winning numbers. They need you to keep feeding that slot machine. They need you to keep hoping you'll hit the jackpot. They don't want you to take your money and leave their casino.
The Alternative
Of course, quitting doesn't have to mean suicide. Make a prioritized list of things you'd like to do before you die. Let's say that item #1 is required, by definition, to be "wealth, achievement, recognition, and the impressed approval of family and friends," i.e. the standard goal of virtually everyone. Now add a few more items, #2, #3, #4, etc., that are not compatible with #1.
If you become a winner (W), you get #1, but must forsake #2, #3, etc. If, after trying long and hard, you give up on #1 and become a quitter (Q), you don't get #1 (which you almost certainly weren't going to get anyway), but gain the opportunity to pursue #2, #3, etc. while you're still alive and physically capable.
What if, like most, you're a loser (L)? Then you don't get anything! Not #1, not #2, not #3 — nothing. You spend your whole life pursuing #1, forsaking #2, #3, and #4, never taking realistic stock of your situation, daily deluding yourself into believing that sweet success is just around the bend, then realize on your deathbed that you missed out completely. Game Over. Sorry — badmouth quitting all you want, but the tragic, pathetic outcome of the loser just isn't for me.
Into the Unknown
So what might #2 be? #3? #4? Society strongly frowns on such disclosure, so I must leave that undiscussed for now. But I can say this: Writing an exposé of the truth behind "winners never quit" is certainly an activity that falls into the #2-#3-#4 category. Winners can't afford to speak so openly, and losers think they can't.

prev
next