Polly Sooth the Air Rage
AFTER waiting over five hours for an available flight to Chicago, we took off and landed less than an hour later at O'Hare. Unfortunately, due to the -3°F weather turning fuel to jelly, freezing human waste solid, and such as the like, we sat for I think an hour and half in our plane before it was able to taxi a very long distance to a gate. Then, to get from one B gate to another B gate, it was an amazingly long walk with our dazed, just awoken six-year-old to our connecting flight. We got there just in time for boarding.
My wife and son sat in the two side-by-side economy seats, and I sat alone in the one "Economy Plus" seat we were assigned. (They had changed our flights several times.) What's the difference between economy and "Economy Plus?" As far as I could tell, it was that you got a not-so-fancy sticker on the back of the seat in front of you that said, "United Economy Plus," constantly reminding you that you weren't in plain-old economy. That was it! It really made my day. We were served two beverages during the whole flight. No snack box. No peanuts. Nothing to eat at all. And no, I didn't sleep through the food service.
After a few hours of fitful pseudo-sleep on the crowded plane, we landed in the midst of a snowstorm in Portland, Oregon and this time we got to deboard immediately. But alas, we sat for over four hours in baggage claim, with our increasingly disgruntled fellow travellers, watching more and more bags appear on the carousel — none of them ours.
Finally the carousel, packed to the gills with bags, came to a stop, and an airport official yelled out to the crowd that no more bags could be put on the carousel until some of the ones on it were removed. "You people who have those bags need to take them off the carousel," he explained.
Almost in unison, about twenty people replied, loudly, "They're not here!!"
"We can't put on any more bags until those ones are off," he reiterated. Immediately, a mob of people started pulling bags onto the floor.
"If you touch or move a bag that is not yours, you are subject to criminal prosecution!" called out the official.
Laughter greeted him from multiple directions. One guy said, out loud, "Like they really have enough handcuffs for all of us." The airport official stopped talking and found something else to do. In no time, the carousel was completely empty, but our bags never showed up. Finally, we had the airport check on them and found that they were "in transit," and would be delivered to our hosts' house (hopefully tomorrow).
The whole incident would have been abjectly miserable were it not for a young woman among us who took out a fiddle and played bluegrass, which inspired my son to dance. I think I like Portland. And they say it usually doesn't have weather like this.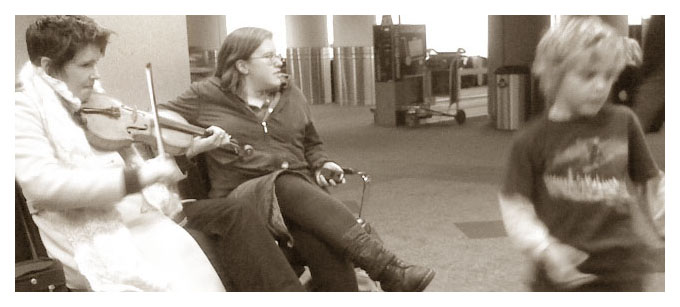 Update 2008.12.30 — Our bags were delivered on our third day in Portland. And on the return trip, they charged us $45.00 to check one non-overweight bag each. (What were we going to do, say no?!) Fool me once, shame on United. Fool me twice, shame on me. Next time I'm flying Southwest.
Oh, and did I mention that they wanted $18.00 for us to each to have one snack box, which doesn't contain even a tiny sandwich? United is starting to look more and more like SkyBus. Say...how's SkyBus been doing lately?
prev
next