Seattle Redux
A trip to Seattle wouldn't have been complete without a dash downtown to visit the Pike Place Market and the first Starbucks store. On a sunny Sunday like today, downtown Seattle was a hellish place to park, but everyone there seemed to be having so much fun, it didn't really bother us.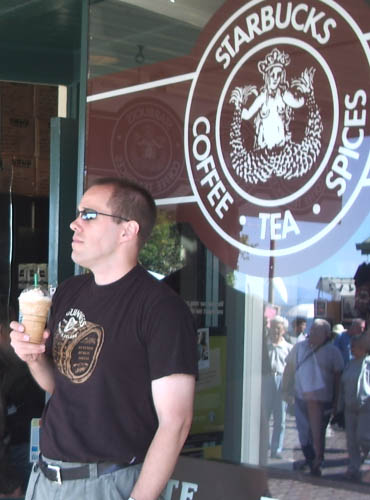 I made my obligatory lifetime pilgrimage to the Mermaid's Mecca (photo proof above!) and toasted the occasion with a now-in-season Pumpkin Spice Frappuccino®. Yum yum. And of course I couldn't get in the long but fast-moving line for my drink without also snagging three mugs: current logo on one side, old logo on the back.
Before we could reach the Starbucks, however, we were waylaid by Piroshky Piroshky, a pastry place that emanated a wall of irrisistable odors through which no even mildly hungry person could pass. I chose a fish-shaped salmon paté roll which proved to be so good that, after tasting mine, Shawn and Katheryn had to go back for another one before we left the market.
The only downer was a street musician who stood right in front of the Starbucks, singing a protest song that seemed to imply there was something fake about the store. When he finished, I went over and sociably asked him what the song meant. He explained that the original 1971 Starbucks was a few blocks away, at the north end of the market, in a building that got torn down. The store we were standing in front of was built in 1978 and became the new "original" location. OK, so what's to protest? His story continued: Pike Place Market doesn't allow chain stores — unless the Pike Place location is the original location where the store started before it became a chain. He thought they made an exception for Starbucks just because they're so big.
Further questioning revealed that he was upset that he couldn't play on the official spot (a big red music note on the ground) because tourists are always taking their picture in front of the window logo (like me!), and would be constantly asking him to move, so he has to play in front of the other window, which he considers inferior. I mulled telling him that I wouldn't have heard his music at all if it hadn't been for that Starbucks, but decided to be friendly and move on. Later, a lady who works for a nearby vendor told us that he plays that song over and over for hours, even though Pike Place officially allows musicians to play for no more than one hour at a time.
It never ceases to amaze me what seemingly petty resentments will lead people to do. I guess rules have to be broken every now and then — sometimes by a special musician, and other times by a special coffee shop.

prev
next