The Question Every Apple Naysayer Must Answer
HEARD a good story lately that Apple is headed for rough road ahead? Perhaps it came from a respectable pundit, analyst, or business theoretician? Here's a hint: Before you take it too seriously, study the following graph (from Horace Dediu's Asymco):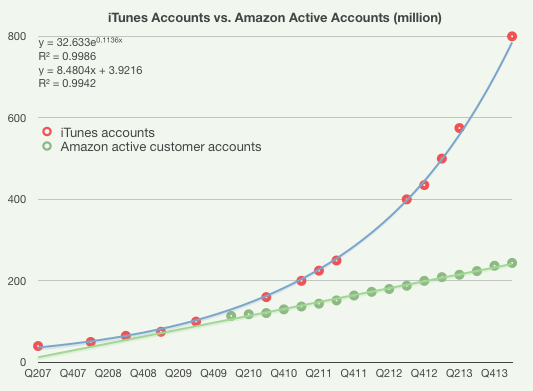 Dediu is comparing iTunes to Amazon here, but forget about that and just look at the iTunes curve.
Notice that the graph's scale starts at zero, and is a purely linear numeric progression. Notice also that the data points of iTunes accounts extremely closely follow an exponential growth curve, doubling every year-and-a-half.
Question for the Apple naysayer: Does your theory of trouble for Apple imply that iTunes accounts will abruptly deviate from this exponential growth curve in the next few years? If not, why not? How can Apple be hitting tough times, yet continue to grow iTunes accounts in exponential fashion? And if your theory does imply a near-term deviation from this curve, then how did the curve hold so exactly from '07 to (at least) '14? What is true today, that wasn't true for that seven-year period, that will cause serious problems for Apple?
Recommendation to the reader: If it doesn't include a very specific (and credible) answer to the above question, then you can safely assume any Apple naysayer's story is total BS.

prev
next