Mosaics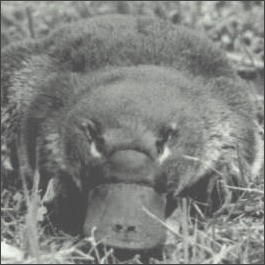 A recent Economist article talks about the curious case of the anti-freeze protein in fish, which even ID pillar Michael Behe presumes to be a product of mutation-selection evolution. Apparently, this protein is now known to be used by multiple species of fish that do not share a recent common ancestor, which has caused some to suggest that the anti-freeze gene somehow crossed from species-to-species via an (entirely speculative) mechanism whereby sperm from one species manage to insert a few genes into the already-fertilized egg of another species.
Of course, we're finding all sorts of cross-species gene sharing that defies even such impressively hopeful solutions as that one. Before gene sequencing, it was always possible for Darwinists to explain away an extreme mosaic like the platypus as just a splendid example of "convergent evolution" — an explanation that, while giving the theory an uncomfortable splash of unfalsifiability, at least avoided the more unpleasant alternative of outright falsification. But now a great deal of sequencing has been done in the platypus and other similar species and — as anyone not committed to the "convergent evolution" explanation might expect — the platypus owes many if not most of its shared morphologies to shared genes that cannot possibly be written off to convergent evolution. The genetic sequences are just too similar to have arisen independently. The same overwhelming sequence similarities that prove beyond reasonable doubt that much of human DNA came from the chimpanzee, also prove that much of platypus DNA came from multiple species in very different lines of descent.
So what do we do with that? Do we propose unique mating events — much more bizarre and unlikely than a fish squirting sperm on the wrong eggs — that somehow put together a functioning organism like the platypus? I'm dying to know how the Darwinists will deal with this. My best guess is that they will decide the safest approach is just to ignore it, and continue to teach Darwinism anyway. (That strategy has worked very nicely against Haldane's Dilemma.) But it's going to be a lot harder to ignore as time goes by. Genetic science seems to be showing that there a lot more platypus-like mosaics out there than we knew. Are humans modified chimpanzees, or do we also get some of our DNA from gorillas, and how did that happen? Bizarre speculations, anyone? Anything that saves Darwinism, I'm sure, is warranted.
And what does this mean for ID? What it means is that the designers of the flora and fauna of this planet are unquestionably human-like, tinkering, experimenting designers, not the all-seeing, all-knowing, all-judging, infinitely wise god of traditional human religion. That conclusion seems very obvious, but I'm not holding my breath while waiting for the ID community to admit it — any more than I would hold my breath while waiting for Darwinists to admit that anything in biology was purposely designed at all.

Update 2011.07.11 — Another curious genetic difference between the platypus and most other species.
Update 2013.07.26 — Apparently, human genetics now suggests that we're a hybrid of chimp and pig. I'm sure there's a perfectly reasonable evolutionary explanation of how that could have happened.
Update 2013.09.04 — Not only did echolocation arise independently in dolphins and bats, but it did so using extremely similar sequences of DNA. How does the Queen Mary University of London deal with that? Simple: (a) liberally sprinkle the article with "convergent evolution," "convergence," and "evolved;" (b) quote the scientists who did the work calling their results "astonishing" and "striking," but make no mention of actual numeric probabilities; and (c) click the "Publish" button. Problem solved!
See also:
Everything You Need To Know About Haldane's Dilemma
&
Mosaics
&
How Religion Distorts Science
&
Antecessor Hypotheticum
prev
next