Suzie and Bubba Redneck — the Carriers of Intelligence
WHEN I was growing up, I remember reading a few sci-fi stories that worked off of the premise that in the future, humanity will be mostly comprised of really dumb people, because they are the ones who reproduce the most. And in general, I've noticed, it's very common among smart people to believe that humanity is getting dumber and dumber because dumb people breed like bunny rabbits while smart people have only a few, or maybe even zero, children. The popular image is of the redneck family living in a double-wide trailer, making kid after kid, while the intelligent, upper-class couple living in a nice house has an only child, or maybe two, and would consider three children a large family.
But why wouldn't this phenomenon have dumbed-down the whole population a long time ago? Does population data over the past century show the population getting dumber? Does it show that the percentage of the population that is in the high-IQ range is steadily shrinking? I doubt it.
Intelligence
This idea is based on a false, but popular premise: that intelligence is single thing. You can be genetically coded to get a lot of it. Or not so much of it. If your parents both have 60 units of intelligence (out of, say, 100), then you will have no more than 60 yourself — and maybe less if your "intelligence gene" degrades a bit more.
If this kind of thinking was valid, then everyone would be almost exactly the same height by now. And the races would have blended into a single, mocha shade. That hasn't happened because genes don't work that way.
Human intelligence is not a single thing or substance; rather it is a collection of specific, coded abilities. A hypothetical individual who has no harmful mutations in any of that code would have full human intelligence, and would be, if not a "genius,"1 then a very intelligent, obviously bright person.
Let's say that your typical, blue-collar, not-especially-bright couple has about five intelligence-reducing mutations each. But — they don't have the same mutations. So Suzie might have these intelligence-reducing mutations:

while her husband Bubba has these ones:

(Arguendo, these are dominant mutations, so they're all expressed in Suzie's and Bubba's intellects.)
Each of Suzie and Bubba's children has a 50% chance of inheriting each of these ten mutations (since the parent that carries it also has a good copy of that gene — this is a bit simplified, I know).
How many of these ten mutations will each child inherit? Probability theory tells us that it will be a bell-curve-like distribution: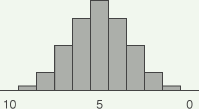 So Suzie and Bubba could give birth to a child with none of these mutations, who would be quite intelligent (but perhaps stunted by an unintellectual upbringing). However, such a child has only a 1-in-210 chance of occurring in any given pregnancy — i.e. 1 in 1,024. And the great probability is that all of Suzie and Bubba's children will be only a little dumber or a little smarter than their parents.
What this means is that if somehow the smartest half of the population was abruptly exterminated tomorrow, then in a few centuries or so they would simply reappear. The population size might take much longer to recover, but the intelligence distribution would quickly restore itself.
Or to put it another way, if you're exceptionally bright (i.e. you carry very few and/or very mild intelligence-sabotaging mutations) you inherited most of your intelligence-related genes from people, several generations back, who themselves were not particularly bright.
Intelligence exists in the human population in the form of undamaged copies of the intelligence-coding genes. These undamaged copies are carried mostly by those of average intelligence — people like Suzie and Bubba. Most of the reproductive work of carrying these undamaged intelligence genes forward from one generation to the next is done by Suzie and Bubba — not by super-smart people who have almost no bad copies of those genes. The bulk population of Suzies and Bubbas produces rare, very bright individuals as a chance byproduct of their reproduction, and those very bright individuals, though they may not reproduce very much themselves, benefit the whole population by their exceptional productivity and ingenuity.

1 Malcolm Gladwell suggests that there is actually no such thing as genius — so-called geniuses are actually persons who were both unfettered by the wrong kind of mutations, and who had the circumstances necessary to put in ten years of serious study in their field.
Update 2008.06.30 — minor phrasing adjustments
Update 2008.11.15 — Gladwell footnote added
Update 2012.12.19 — Dr. Adrian Owen of the University of Western Ontario, coming to a similar conclusion.
prev
next