Cavemen
I was afraid to watch the premiere of "Cavemen" because I couldn't imagine how it could live up to the Geico commercials, so it sat in my DVR for almost a week.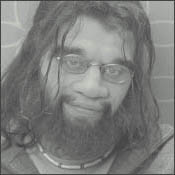 image © ABC, Inc.
My fear was that there were only two things it could be: A tiresome, half-hour stretch of the half-minute joke that made the Geico commercials so good, or a different comedic idea altogether (think: just another sitcom) with caveman makeup on the main characters. Neither idea seemed like a winner; hence my apprehension about watching it.
Much to my relief, it's excellent. Downright hysterical. I can only hope that episode 2 (now also in my DVR) will be as good.
Which concept was it? Turns out, it's the former — a half-hour treatment of the original ad humor. But somehow, it works for the full show. Maybe they got really good writers on this job, because the joke just got funnier and funnier as the show went on.
What is it that makes this show so good? Like "The Addams Family" and "The Munsters," it's a gag about a group of monsters living among normal humans. But unlike those two shows, in "Cavemen" the humans completely accept the monsters as an utterly normal occurance — it's the monsters who have existential hangups about the fact that they're monsters.
The monsters fit into the human world much better than most humans. They seem to resent the humans in a way, but freely partake of all the best, most refined stuff the human world has to offer. It's almost as if they're internally festering over the fact that they're monsters, but have decided to put that on hold, since there are so many cool things in the human world in which to indulge.
And, in a way, I identify with them. Flipping opening a slick, Apple laptop and writing a little Objective-C over a grande, sugar-free, nonfat, no-whip, Cinnamon Dolce Latte makes me wonder if, at heart, I'm not one of those Cavemen. I don't really think I'm the person I want to be, and that upsets me a lot, but hey, I'll worry about that later — right now there's yummy coffee to drink and a lot more besides.
Another thing I really like about "Cavemen": It's funny all the time. Like "Seinfeld" (and unlike "Friends"), it doesn't jerk you from funny to serious to funny to serious. That moronic rollercoaster is the bane of almost every sitcom made, and I've always hated it. That's what made "Seinfeld" so great — it never got serious, no matter how serious the topic. "Seinfeld" on Schindler's List? Funny. "Seinfeld" on abortion? Funny! "Seinfeld" on Aryan supremacists? Funny!!!
My favorite "Cavemen" moment (which made me laugh so hard I had to pause the show to keep from missing the next joke): At an outdoor café, one of the cavemen orders, "Can I have a tall soy macchiato and a cranberry biscotti?". I'm already starting to crack up.
His less-hip caveman friend says, "Coffee and a donut, please."
The waitress looks confused. "Excuse me?"
The first caveman helpfully explains, "He wants an Americano and a beignet."

Update 2007.10.12 — Just saw the second episode. OK, it's settling down a bit; not as frenetically funny as the first episode. But still very entertaining. Nice homage to Phil Hartman in the lawsuit scene, and I loved the scare-off-the-girlfriend gag at the end.
prev
next