iPhone 2013 Score Card
TO hear some sourpuss pundits describe it today, you would think that iPhone was a brief success but now is being run out of the smartphone business. In actual fact, all of these expert malcontents are either deluded or dis­in­gen­u­ous.
The Challenger
When iPhone first hit the market in mid-2007, smartphones were already a popular product, and had been for years. There were many models to choose from, and they were made essentially by four companies: Nokia, Palm, Motorola, and RIM.
Apple aimed to become a fifth major maker of smartphones, with the modest goal of selling 1% of all mobile phones by the end of calendar 2008 — an objective they exceeded by only about 30% (i.e. they got 1.3% of the market).
So now we're at five years since the end of 2008. How are things going?
Failure
Palm is completely dead and gone.
RIM (now BlackBerry) seems to be in its death throes. RIM shares peaked soon after iPhone came out, and since have lost 95% of their value. Two quarters ago, BlackBerry reported a net loss of $84 million, then a quarter ago it was a billion, and in their most recent quarterly report? A loss of $4.4 billion. After replacing their co-founder co-CEOs with Thor­sten Heins, they've now decided he wasn't any good either, and have fired him, and borrowed a billion to keep the company going, while putting their three private jets up for sale, selling off five main-campus buildings (plus the land they're on) to a local university, and laying off several thousand people. With key talent fleeing for Apple and elsewhere, it won't be at all surprising if BlackBerry completely disappears by this time next year.
Motorola Mobility wasn't doing well either, then was bought up by Google for the enormous price of over $12 billion — perhaps to prevent them from suing other Android phone makers over patents. Their latest phone, the Moto X, is flopping in the marketplace, and even after massive layoffs, they're still bleeding maybe a billion dollars per year from Google.
Nokia, after selling off its headquarters and taking $1 billion from Microsoft to become exclusive maker of Windows Phone "Lumia" models, was doing so badly that major Nokia investors told them to "switch to another road." Then — amid rumors that Nokia might try to make Lumias that run Android — Microsoft bought Nokia's whole mobile phone division for over $7 billion. Other than preventing Lumias from running Android, it's unclear what Microsoft's owning Nokia's mobile phone division is going to do for either Microsoft or Nokia.
In summary, the main smartphone companies from when Apple entered the market are all dead, dying, or have become ineffectual, overpriced, scaled-back sub­sid­i­ar­ies of software companies that bought them for dubious reasons.
Success
In the meantime, iPhone has been a supersonic smash hit. By itself, iPhone makes more revenue than all of Microsoft's products combined — at a time when Microsoft is raking in more revenue than it ever has. iPhone revenue seems like it can only go up, with recent, massive increases of sales in China, and the upcoming release of iPhone on China Mobile (the largest carrier in the world), and DoCoMo (Ja­pan's largest carrier).
And iPhone is only about half of Apple's revenue.
And Apple is building spectacular new headquarters — while not selling off their old ones.
And 2013 Black Friday sales on mobile devices were 80% from Apple devices.
And Apple is distributing bigger dividends to its shareholders than any company in history — while its massive cash hoard continues to grow.
Current Competitors
The three most serious competitors to iPhone are, in ascending order of importance: LG, HTC, and Samsung.
LG is losing money, and is such a minor player compared to iPhone that it almost doesn't make the list. HTC barely has been eking out a profit, but more recently has reported losses. And it's still a minor player compared to iPhone.
Some people think that it doesn't matter if these companies hover on the edge of unprofitability. But it does, because if they're not making a profit, then sooner or later they're headed for the same death/takeover graveyard as Palm, BlackBerry, Motorola, and Nokia.
iPhone's only really strong competitor is Samsung. Though much celebrated by Apple naysayers, Samsung has significant deficiencies against iPhone. comScore estimated iPhone to be about 38% of the smartphone market, while Samsung is only 21% — slightly over half as much as iPhone. And Samsung's prices and profit margins are substantially lower than iPhone's. Samsung also faces serious, ongoing, legal problems as Apple sues them for patent violations and other IP issues.
But never mind all that: Samsung's biggest problem is simply that it was able to get to the position of a strong number two only by taking contract-violating advantage of its close, component-making relationship with Apple. Whether or not Apple ever gets significant remedy in the courts for that — how likely is Apple to put itself in a position where Samsung can do that again? How likely is Apple to believe a Samsung promise not to abuse information access next time?
While Apple does continue to employ Samsung as a chip maker, I think it's a pretty safe bet that no division of Samsung will ever a­gain get access to Apple's newest, most innovative designs. Which means that the Galaxy S3 wave of strong-number-two products represents the one and only time that Samsung gets to do that to Apple. Samsung's future products — as hinted by the ho-hum S4 and the flopping Galaxy Gear smartwatch — will be sad also-rans compared to Apple's.
Apple's future is about as bright as could be.
The Braying Naysayers
None of this, of course, deterred Apple's detractors these past several months, who talked as if Apple has already lost the game.
Henry Blodget of Business Insider said, "What Apple does not seem to understand, however, is the fate that almost all niche platform providers eventually succumb to — gradual loss of influence, power, and profitability, followed by irrelevance." Then in another article, "Apple is getting its clock cleaned by Samsung, which is now by far the dominant smartphone maker in the world," and, "Apple is being shortsighted and choosing to maintain its already fantastically high profit margins at the expense of market share."
John Koetsier in VentureBeat declared that, "Android has won," and Dylan Tweney, also of VentureBeat, chimed in with, "Android now accounts for more than 80 percent of smartphone sales, while iOS is down in the mid-teens. [Apple] is a company that is slowly but surely losing the final stages of its war for the phone industry."
Neil Mawston of Strategy Analytics informed us that Android is winning because, "Consumers tend to follow the herd and they will generally be drawn toward the largest pools of users and away from the smaller pools over time."
Ashraf Eassa in Seeking Alpha pronounced, "Apple, over the long haul, stands very little chance against the Samsung behemoth. ... it's clear that Samsung will brute-force its way into taking more and more marketshare from Apple ..."
Anti-Apple stalwart Rob Enderle analyzed, "The modern tablet market — created by Apple — has most recently been taken over by Google's Android platform."
And Eric Schmidt of Google asserted, "[Y]ou will switch from iPhone to Android and never switch back ... 80% of the world, in the latest surveys, agrees on Android."
Anton Wahlman in The Street warned, "If these two new iPhone 5 models are all that Apple has, Google will then crush Apple in the coming months."
And Larry Dignan in ZDNet revealed, "Android is doing to Apple what Microsoft did in PCs decades earlier."
Where are these guys getting their data? Where else: Strategy Analytics, IDC, Gartner, and ABI Research, who use a simple, two-pronged approach to arrive at Apple-is-doomed conclusions:
Count anything that runs any version of Android as one unit of "market share," regardless of price, profits, or whether its quality and feature-set are remotely competitive with Ap­ple's products.

Count every unit as "market share" the moment it leaves the factory, without regard to what eventually becomes of it, knowing that Apple keeps tight supply lines and every unit manufactured is an actual sale, whereas the rest of the industry has no such dis­ci­pline.
And presto, you have Android "winning" with 80% market share.
That last quote from Dignan really explains the whole pouting pundit phenomenon: Besides, of course, wanting Apple to lose (or perhaps even being paid to say Apple is losing), most current industry pundits came of age in the late 1980s and '90s, when Microsoft's close copy of Apple's main product was beating the pants off of Apple. So, naturally, the same thing has to be happening to Apple again today.
But back in the '90s, the great bulk of the app ecosystem, with its "virtuous cycle," was on Windows, working for Microsoft. In today's mobile market, the great bulk of the app ecosystem is on Apple's devices. The virtuous cycle is working for Apple.

Update 2014.04.11 — "Gartner" add­ed
Update 2016.03.13 — So here we are, a little over two years later. What's been happening?
Palm — Still dead. webOS, its main remnant, was sold to HP, who then sold it to LG. It never turned into any kind of significant competition to iPhone.
BlackBerry — By mid-2014, it hit literally 0% U.S. market share, then in early 2015 its CEO, John Chen, seriously recommended that legislators compel all app developers to port their apps to BlackBerry. (That did not happen.) That spring, it released the $2,300 "SecuTABLET," which promptly received no market attention over the subsequent twelve months. And later that year, Chen suggested BlackBerry may abandon hardware altogether, becoming some sort of software/services outfit.
Motorola Mobility — After losing boatloads of money trying to do something productive with its Motorola acquisition, Google sold it off for almost $10 billion less than they paid for it. The buyer, Lenovo, saw its late-2014 quarterly profits mostly erased by near-$300 million mobile device losses from Motorola. No sign of any hit products on the horizon.
Nokia (mobile division) — In mid-2015, Microsoft wrote off its $7.2 billion purchase of Nokia's mobile division as an $8.4 billion loss, announced 7,800 layoffs, and shut down Nokia's Salo, Finland phone plant, killing up to 2,300 jobs. Windows Phone, a.k.a. Microsoft Lumia, continued to stagnate in ultra-sliver-of-the-market position, while fighting to maintain availability on major carriers.
LG — Continues to struggle with profitability, and produces nothing that could be realistically described as a relevant iPhone competitor. Its most interesting product, the Urbane smartwatch, had to be yanked from the market six days after release, due to hardware issues.
HTC — Now struggling to compete at any level (cheap to pricey) of the smartphone market. In mid-2015 HTC's market valuation hit a ten-year low (less than its cash-on-hand), while it reported big losses and layoffs.
Samsung — Still the only serious (and only significantly profitable) iPhone competitor, Samsung over the past two years has seen an ugly end to its financial good times. Repeatedly issuing warnings of disappointing quarters (plus warning of a tough year ahead in 2016), Samsung retroactively rescinded a hundred of its own executives' bonuses to punish them for the poor results. Freaked-out about iPhone's success in its home country, Korea, Samsung pressured the government to pass laws that would make it impossible for Apple to compete there. In early fall of 2015, Samsung set its longest streak of monthly valuation losses since the early 1980s, and axed 10,000 persons at its headquarters, while its price-to-book-value ratio hit a thirteen-year low. It's reportedly laying off 30% of its workforce, and forcing managers over fifty to "voluntarily" retire. In early 2016, rumors solidified into reality that Apple will be using only TSMC for its newest (A10) processor, resulting in Samsung entering an internal "state of emergency." Samsung Pay (its answer to Apple Pay) has so far lost $17 million in its first year on the market. And while Apple got almost half of all new-device activations last holiday quarter, Samsung got less than a fifth.
While all of that was going on, Apple had the most profitable quarter in the history of companies, profits, and quarters, then the next year bested even that by 2%, with iPhone providing about two-thirds of those profits.
But believe it or not: Even after two years of this kind of news, certain professional commentators are still finding ways to spin it as bad for Apple. How? Simple: iPhone's latest peak (holiday) quarter's unit sales are scarcely larger than the year-ago quarter, the smallest rise (by far) in that product's entire nine-year life — which means it's peaking! ("Finally" peaking according to Darren Orf in Gizmodo.)
But look at a graph of iPhone unit sales (from Bare Figures, augmented with my arrows), and you see a very different picture: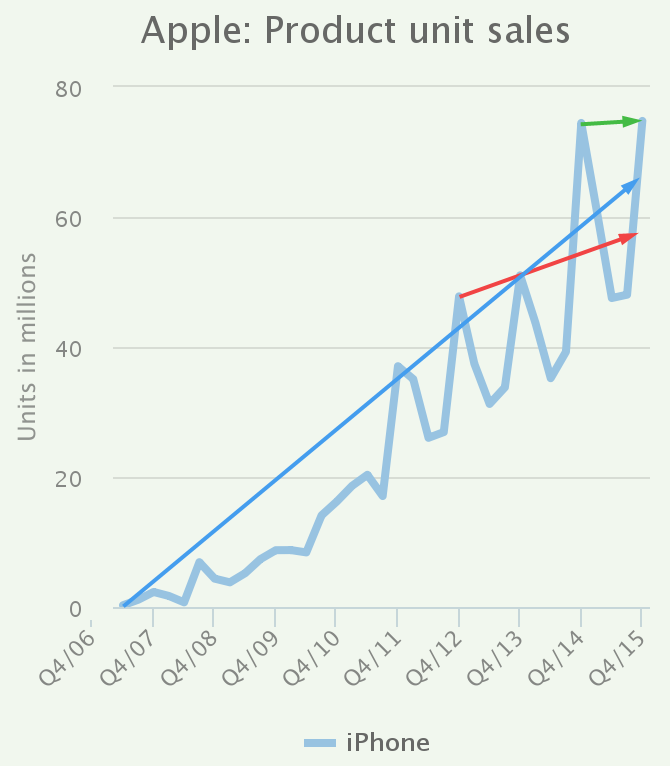 The green arrow shows iPhone barely increasing from the year-ago quarter. But the red arrow reveals that if iPhone had continued to grow at exactly the same rate that it did from 2012 to 2013, it would be far lower than it is now! And the blue arrow indicates that it if had grown at the same average rate that it did from its initial release in 2007 to its peak quarter of 2013, it still would be much lower than it is today.
No matter how well Apple does, it seems it will always be possible to pluck a few facts out of the mix, present them in isolation, then say that Apple is in some kind of trouble. But to anyone with a clear view of the big picture, it should be pretty obvious by now: Apple's handily winning, and the people who say it isn't are just people who very much want to say that.
Update 2018.02.11 — Another two years go by, and it's very hard to think iPhone isn't in a commanding lead:
Palm — long forgotten.
BlackBerry — Tried to come back with the "Classic" (physical keyboard phone), but that failed hard and was yanked from the market in mid-'16. A few months later, BlackBerry announced it is ending all hardware production, to "focus on security and software." One of its biggest remaining customers, Deutsche Bank, gave up and switched to iPhone.
LG — By early '17, LG reported big losses, mainly due to its failing smartphone division.
HTC — The only notable thing HTC's done lately was to develop the Google-branded Pixel phone, then sell off its Pixel design division to Google for $1.1 billion.
Samsung — Already with only a quarter of the mobile device profits of Apple, Samsung certainly didn't need anything to go wrong with its Note 7 flagship phone — like battery fires/explosions causing the phone to be completely recalled in just a couple months, then permanently cancelled soon thereafter. Banned (via harsh penalties) from all air travel, so many Note 7 customers nevertheless refused to turn in their phones that some countries (and eventually Samsung itself) had to find ways to remotely, involuntarily disable it. Note 7 users whose property was damaged to the tune of thousands of dollars angrily found that Samsung wouldn't pay for repairs. Samsung's investor warning to expect a tough 2016 could scarcely have been more accurate; then Samsung warned of a tough 2017 ahead. Their heir-apparent CEO Jay Y. Lee was prosecuted and convicted of bribery, hiding assets, embezzlement, and perjury — the prosecutors' requested twelve-year sentence was reduced to just five, then a few months after that Lee was abruptly pardoned, and is returning to run Samsung. Security researchers called Samsung's Tizen OS the worst code they'd ever seen. And Some S8/Note 8 phones have been permanently bricking themselves if run down to zero battery.
Microsoft — Windows Phone (née Nokia Lumia), Microsoft's "in this for the long haul" smartphone venture, was finally, mercifully unplugged, causing founder Bill Gates to switch to Android, and causing Microsoft's ghost-town, Apple-alike, retail stores to start carrying Android (alongside the dead-but-still-in-stock Windows Phone). The phone's cancellation reportedly resulted in 1,850 layoffs and a near-billion-dollar writedown. The NYPD, after spending tens of millions of dollars over the last couple years equipping its officers with 36,000 Windows Phones, scrapped them and is replacing them with i­Phones.
Google — Concluding more than six years of paltry sales, Google discontinued the Nexus phone. After announcing a host of Project Ara phone partners, and promising a developer release, a few months later Google cancelled Ara altogether. Soon after, Google announced the HTC-made Pixel phone and a slew of related products, all intended to replace various products from Apple and some other companies. Eight months later, it was accidentally revealed that Pixel had sold only a million units — much less than 1% as many as iPhone in the same period. Most recently, Google has been hit by multiple lawsuits over defective mics in the Pixel phone, which they refused to repair, replace, or refund even within the phone's one-year warranty. Meantime, ex-CEO Eric Schmidt is apparently now an iPhone user. And Google is now estimated to be paying Apple $3 billion/year to be the default (but easily user-changeable) iOS Safari web search — triple what they were paying just a few years ago.
Essential — Andy Rubin, creator of Android, decided to throw his hat into the ring with the Essential phone: yet another, splashy, this-is-the-one-at-last iPhone killer. Though much celebrated as "Steve Jobs 2.0" by Android's prickly fans, Essential phone endured a 5,000-unit launch week, and had sold only about 50,000 units at the half-year mark. Meanwhile the company suffered a "humiliating data leak," and Rubin took a leave of absence under a cloud of workplace sexual impropriety. The phone's price dropped from $700 to $500, but if you paid $700, you got a $200 coupon towards other Essential products. A month later, Android Central ran an article on the phone, titled "Still not enough ... The sun is setting on this ex­per­i­ment."
While all of that was transpiring, iPhone just kept doing better. Named the most influential gadget ever by TIME, iPhone recently passed a billion sold — the most popular product of all time. Counting the net losses of some smartphone makers as negative profits means that Apple now takes 104% of all smartphone industry profits, and got over twice as many 2017 holiday-season device activations as any competitor — 30% more than any seven competitors combined. VW and GE are standardizing on iPhone. iPhone was the top-selling tech device of 2017, outselling the #2 device (Samsung S8/Note 8) by more than 6-to-1. Apple's 2017 holiday quarter was its all-time record quarter, with revenue 13% higher than its previous record. And of all iOS devices ever sold, nearly 2/3 of them are currently in use.
Is this the phone that Blodget warned in 2013 would suffer gradual loss of influence, power, and profitability, followed by irrelevance? Perhaps he meant that iPhone would do extremely well for another five years, then in 2018 would start its decline to ir­rel­e­vance?
See also:
The Old-Fashioned Way
&
Apple Paves the Way For Apple
&
iPhone 2013 Score Card
&
Disremembering Microsoft
&
What Was Christensen Thinking?
&
Four Analysts
&
Remember the iPod Killers?
&
The Innovator's Victory
&
Answering the Toughest Question About Disruption Theory
&
Predictive Value
&
It's Not A Criticism, It's A Fact
prev
next