Conflict Fades Away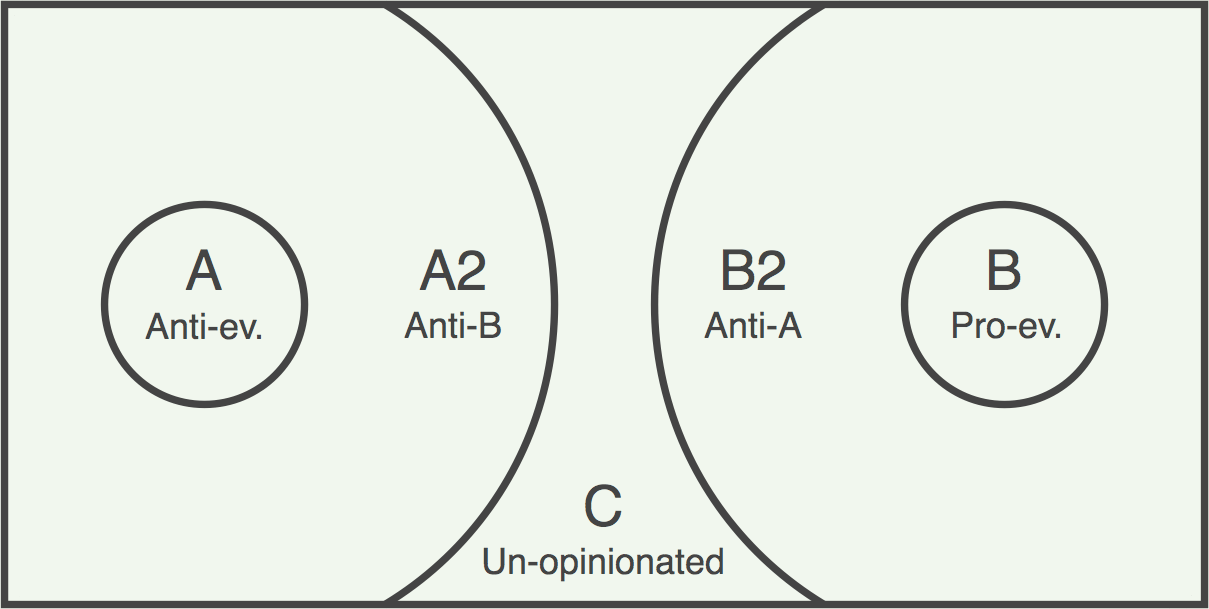 HERE'S all of humanity. And here's this core group of people (area A). And these people believe that if too much of the population believes that Darwinian evolution is true (i.e. that mutation-selection evolution is the cause of all existing biological adaptations), then the moral foundation of society will be undermined, and it will disintegrate into chaos and destruction. And civilization will be ruined. And these people (A) want to save civilization from being so ruined.
And then you have this other core group of people over here (area B), who believe that if too many people in the general population think that Darwinian evolution is false, then the foundation of science will be undermined. And you'll wind up with some sort of theocracy, or the project of science will be ruined (riddled with whacky, unfalsifiable theories), funding will be cut off, technological progress will halt or even start reversing — modern civilization and the freedoms we enjoy, and all the cool technology we have, will be ruined that way. That will be the ruination of civilization, and these people want to stop that from happening.
Now what's interesting to note is that neither of these core groups (A and B) really cares whether evolution is true or not. They're not basing their position on the evidence; they're basing their position on the danger of what they think will happen if society believes the wrong thing. Because neither of these fears of civilizational destruction or ruination has anything to do with whether the theory is actually true. If you want to find out scientifically if a theory is true, you can't do that via either of the these scenarios of danger. Because they don't have anything to do with it. Darwinian evolution is a theory about things that were going on millions of years ago. It also claims that those same things are going on today, of course, but it definitely does theorize about what went on millions of years ago, long before humanity (not to mention human civilization) existed. So if you want to figure out whether it's true, it doesn't help at all — in fact it's just a distraction from the scientific process — to be taking either of these core-group, fear-based approaches.
But these two core groups, motivated the way they are motivated, are what drive the whole conflict over evolution.
Then you have these two much larger camps of people (A2 and B2) who don't really, necessarily feel the way either of the two core groups feel, but they really don't like one of the two core groups. The people in group A2 really don't like core group B, and are really afraid that if B takes over society, becomes too influential in society, something pretty bad will happen. And there's another big group of people B2 that think that if core group A takes over, has too much influence in society, then something pretty bad will happen. So A2 and B2 aren't afraid of what will happen if people believe or disbelieve the theory. They're afraid of what will happen if one of the two core groups (A or B) gets too strong and influential.
And so you have a very large mass of people who side with this core group just to oppose that one, because they think that one is dangerous.
And then you have probably a pretty large group in the middle (C) who either don't care, or are undecided. Or maybe they kinda lean one way or the other, but they don't want to start a fight with people that they personally know and like. And so they just sort-of shut up about it. Maybe they just don't enjoy political controversy; they would rather try to get along with everyone around them.
And so this is my map of the whole conflict.
The reason why ID (intelligent design), I think, has a true scientific core — if not necessarily a scientific following — is because what ID is saying (and this is even if ID turned out to be false, even if Darwinian evolution turned out to be completely true) is that we should be approaching the question of whether Darwin's theory is true strictly with scientific evidence. And that this whole, massive conflict represented by the above diagram, that includes the opinions of millions and millions of people, shouldn't have anything to do with figuring out whether the theory is actually true.
The scientific exploration of Darwin's theory is sort-of poisoned by this conflict. Any time you start discussing the evidence over the theory with almost anybody who has an interest in the subject — this diagrammed conflict almost immediately takes precedence over everything. And that's the whole problem with the subject of evolution. That's why it's such a mess.
So when the ID people say that a hundred years from now people are going to look back and say, "Why did people believe Darwinian evolution was true? That was ridiculous, it was crazy!" — I think they're right, but they're not right that this (diagrammed) conflict is going to be resolved in favor of the anti-evolutionary side (A and A2). What's going to happen is that this whole conflict is just going to fade away.
It's going to be like the Soviet Union. The West beat the Soviets, beat communism, but it didn't beat communism by winning the war. It beat communism because the whole issue just faded away. And capitalism didn't really win, either — now that there isn't any communism, everybody's sort-of looking at capitalism and saying, "Eh, there are a lot of things about capitalism I really don't like. I'm not a socialist; I'm not a communist; but that doesn't mean capitalism is the end-all answer." The whole conflict just sort-of faded away, and now it's replaced with a more direct interest in figuring out what really does work.
And I think that's what will happen with evolution. I think that this whole conflict will fade away. Darwinian evolution will die, just like communism died, but it will die not by camp A winning, but by this entire diagrammed conflict fading away and being replaced with a truly scientific interest in what really happened and what we can really figure out about it.
When these fears, these core camps A and B, are exposed as phobic, as time goes on, as more and more evidence accumulates that neither religion nor Darwinian evolution is actually true, and as the moral foundation of society does not corrode or collapse, and as science does not end, and as scientific progress is not halted or curbed — then I think these fears will die. And when they die, then this whole conflict will die with it.

Update 2013.09.06 — wording of last paragraph adjusted for balance/clarity
prev
next