ID Venn Diagram
HOW about a Venn Diagram showing where Intelligent Design fits into the major belief systems? Why not: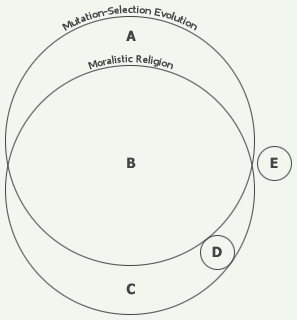 Mutation-Selection Evolution a.k.a. Darwinism — This circle represents the specific belief that the process of random mutation and natural selection can (and did) generate all the adaptive mechanisms of life on Earth, from at least as far back as 4 billion years ago (when bacteria first appeared) to the present.
Moralistic Religion — Primarily Christianity in the USA, this circle represents belief in any major religion that holds that our (typically singular) creator communicated moral directives to the human race, and is greatly displeased when you, a human individual, violate those directives.
A (Atheism) — This is a large but minority group that believes in Darwinian evolution, but not in any moralistic religion. Typically, these people think that humanity is an unintended accident. Some are agnostic, but most are atheist.
C (Creationism) — Another large but minority group, this camp believes in a moralistic religion (e.g. Christianity), but not in Darwinian evolution. Typically these people are Genesis literalists, a.k.a. fundamentalists, who treat the origins story of Adam and Eve and the snake as the received word of God, not to be doubted or diluted. Their rejection of evolution is probably in service of their allegiance to Genesis.
B (Both) — This group, I think, is the majority in the USA. They believe in both moralistic religion (Christianity) and in Darwinian evolution. They do not subscribe to a literal interpretation of Genesis, and think that the Christian God purposely made a universe that would automatically generate human life by an evolutionary process.
D (Design) — This circle represents the position held by the current leaders of the ID movement, such as William Dembski. It lies in the same area as Creationism in that it accepts Christianity (or other major moralistic religion) and rejects Darwinian evolution in favor of deliberate design. It differs from Creationism in that it does not require a literal belief in Genesis. Design rejects evolution for scientific reasons only, and says that evolutionists believe in evolution either because they have been misled about the state of the evidence, or because they have become convinced that science's principles alone require the conclusion of evolution.
E (Entertainment) — This circle represents my position: that you're in a big videogame whose purpose is to entertain you for a few decades or so. This position is unique in that it rejects evolution, for the same reasons that the Design camp rejects it, and also rejects moralistic religion — for the same, scientific reasons that the Atheist camp rejects it. My position holds that the Entertainment scenario arises naturally from a strict adherence to science in all spheres of belief. Typical Design advocates, in my opinion, use science to demolish Darwinism, but neglect those same scientific principles when it comes to analyzing their own allegiance to moralistic religion.
Plug time!
Read more about Entertainment philosophy in my book, Mechanism: The Ugly Truth That Nobody Wants To Know. The above Venn Diagram should make it abundantly clear what the "Nobody Wants To Know" phrase is all about. Dembski needs only convince group C to give up a few trivialities like a 6,000-year-old Earth, and group B to give up Darwinism (which might not be too hard if a large percentage of them were going along with it only for pragmatic purposes), to win a huge majority of the population. But I have to convince everyone to give up everything: no moralistic religion and no Darwinism. Nothing but life, enjoyment, and scientific progress, for their own sake. Even Atheists aren't particularly close to my position — partly because they see evolution as an indispensable, anti-religious weapon, but also because viewing humanity as an unintended accident actually leaves room for moral pronouncement (in which many atheists are very fond of engaging), whereas viewing this life as an intentionally created amusement does not.
It's a tough row to hoe, and I don't expect to be alive when my message is widely known, much less accepted.

Update 2007.04.23 — minor grammatical fix
prev
next