Reasonable Projection
A few articles ago, I brought up the idea of a "reasonable projection," by which I meant simply extending the overall curve of the recent past a little bit into the future, to get an approximate guess as to where things will be then.
In the same spirit, here's a simple analysis of data in a graph from Asymco.com. Here's the original graph: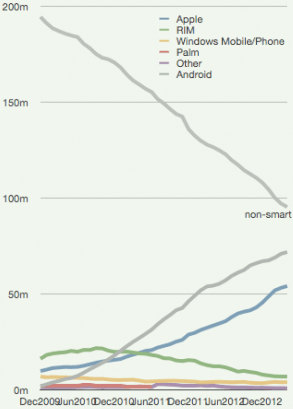 And here's my reasonable projection of the Apple and Android curves into the near future: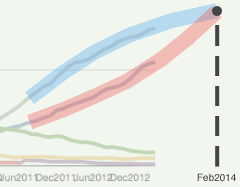 This shows Apple passing Android sometime around next February. So — unless something causes these nice, graceful curves to change direction abruptly — Android will lose the raw-numbers crown about eight months from now.
Expect an update to this page when that does/doesn't happen!

Update 2015.08.25 — Thanks to Asymco for providing the following graph in a recent article (red line added):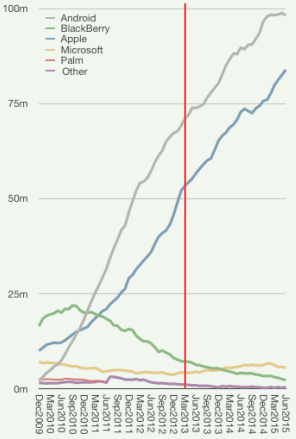 Everything after the red line is new since I wrote this article. As you can see, my "reasonable projection" did not occur! Booo. But neither did the iPhone peak and go into decline; it's been rocketing up this whole time.
prev
next