The Futility of DVD Encryption
THE MPAA and related industries seem to have convinced themselves that strong data encryption can somehow stop people from making illicit copies of movies from DVD, and from the new HD formats. It's a complete delusion. Take a look at the two forms of data encryption: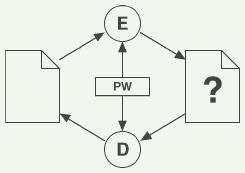 In this first figure, we see simple, symmetric encryption. A document and a password are run through an encryption algorithm, E. This produces an encrypted document that looks like complete gibberish and can't be viewed. The person who is supposed to view the document has the password, and uses it with a decryption algorithm, D, to recreate the unencrypted document.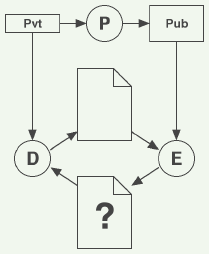 Above is the other major scheme, public-key encryption. In this arrangement, you make up your own private password, Pvt, which you share with no one. Then you use algorithm P to convert that password into a somewhat larger, "public" password, Pub, which you make publicly available. This public password can be used with algorithm E to encrypt documents. Only you, the holder of Pvt, can decrypt those documents, with algorithm D. Other people use your public key to securely send you content, and you use their public key to send them secure content.
So, which scheme do DVDs, Blu-ray discs, and HD-DVDs use? I'm not totally sure, but I think it's the symmetric scheme. The audiovisual data is encrypted using a key, then the player uses that same key (embedded in one of its chips) to decrypt the data during playback. The idea is that if you try to write a computer program to pull the data off of the disc, you'll just get the encrypted data which can't be viewed as a movie. And you can't likely crack open the chips inside your DVD player and use an electron microsope to see the bit pattern of the secret decryption key.
This scheme suffers from a very large weakness: Just because I can't get that decryption key out of my player doesn't mean somebody can't. And once any somebody does, somebody else can write an application that uses the decryption key to rip movies off of the discs and convert them to any format you please. And such an application can be copied all over the internet so that anybody can use it. So much for using encryption to protect movies from being copied!
What do both of the encryption schemes diagrammed above have in common? They both require the person who is supposed to legitimately view the content to have the decryption key, and to be unwilling to share it (nor the decrypted content) with persons who aren't supposed to have it. But what if person(s) who have the decryption key want to share it? What if they want to share the decrypted content with others? Then the whole scheme of data encryption becomes useless and pointless!
Bottom line: Encryption is a great way of keeping the mass public from viewing data that you don't want them to view at all, like military secrets. It isn't a way to keep the mass public from sharing data that large numbers of them are permitted to view.

Update 2008.03.25 — Blu-ray encryption has been quickly cracked, and the crackers say it will be much easier and faster to crack when Blu-ray modifies it.
prev
next