Happy Birthday, Anton Leeuwenhoek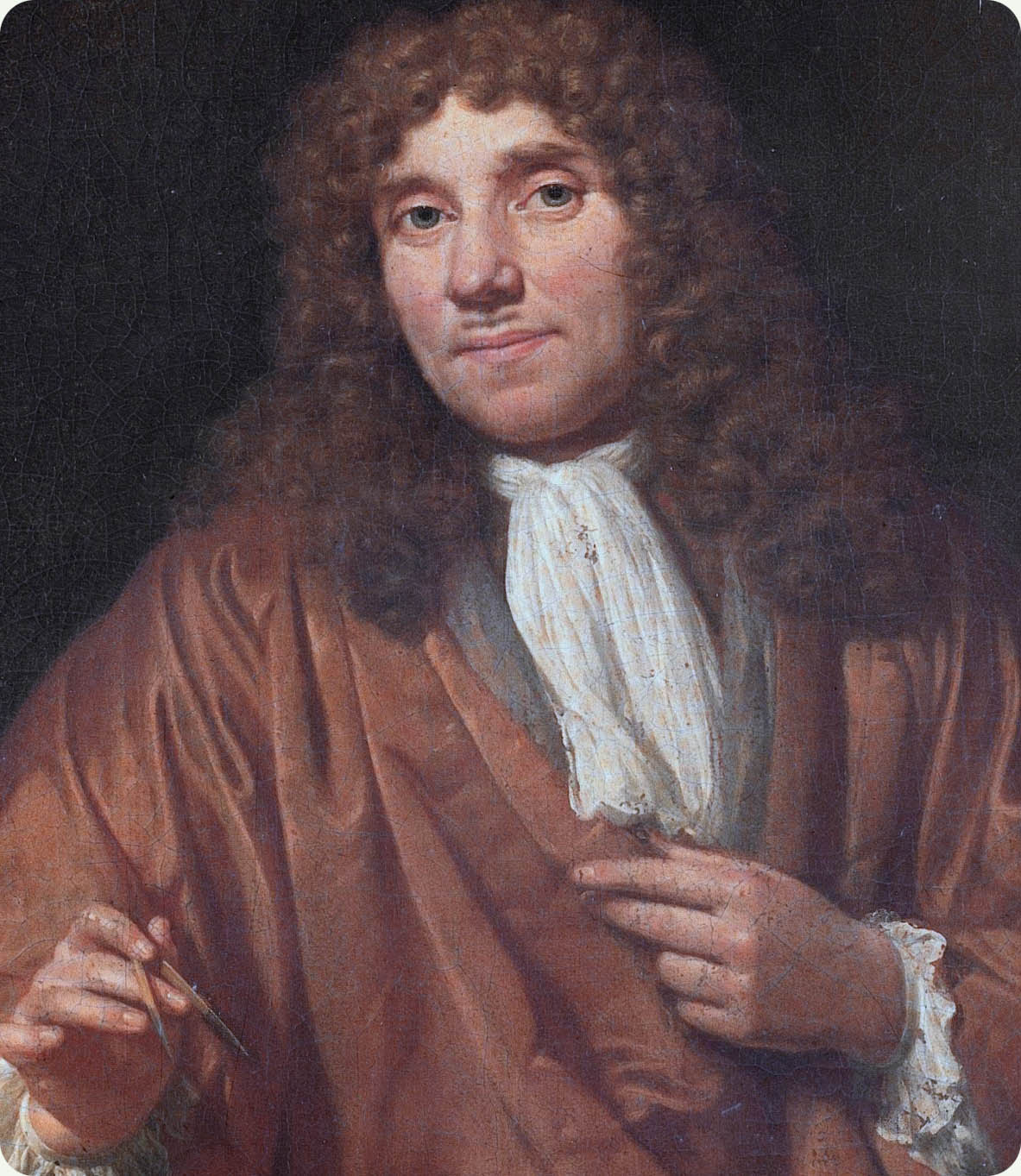 383 YEARS ago today, Anton Leeuwenhoek, the "Father of Microbiology," was born. Lee­u­wen­hoek is my favorite scientist, and now I will tell you why.
Leeuwenhoek was not a professional scientist, but rather an amateur microscopist. He created drawings and wrote about what he saw through his microscopes.
Back then, to engage in this activity pretty much meant building your own equipment, so Leeuwenhoek was a maker, not just a user, of microscopes. While tinkering around one day, he made an important discovery. He stretched a thin rod of glass in a flame, then allowed it to cool and broke it in half at the thinnest point. He then re-introduced one of the thin points to the flame, whereupon it formed a tiny ball of glass. When again allowed to cool, and separated from the rest of the rod, this ball proved to be an extremely perfect sphere, an excellent microscope lens (in combination with other lenses), and enabled Lee­u­wen­hoek to build a microscope much more powerful than any that had existed before.
Not only was Leeuwenhoek's new microscope much better than all previous ones, it was superior to any that would be made for decades to come, because Lee­u­wen­hoek kept this discovery entirely to himself. Using this technique, he made observational papers that he submitted to the Royal (scientific) Society, which they happily published. Leeuwenhoek's scientific observations were superb; they hold up to this day.
Leeuwenhoek became the one-man, leading edge of microbiology, and other scientists of the time started publicly lamenting that all progress in this field seemed to come from Leeuwenhoek. Lee­u­wen­hoek built microscopes for other scientists, but never using his secret technique, and it eventually became known among these scientists that he must be keeping his best equipment for himself.
Leeuwenhoek lived into his nine­ties, submitting papers the entire time. He took his secret to the grave, and his technique was not rediscovered until the 1950s (by which time much better microscopes could be made via more advanced technologies).
If Leeuwenhoek had shared his lens-making secret shortly after discovering it, he would have been a nobody in microbiology and in history, but microbiology probably would have advanced much faster with a large number of scientists using the better microscopes. He chose instead to be an important somebody.
For this, Leeuwenhoek is my most-admired scientist. The pace of scientific progress can be fast or slow, but the real purpose for the practicing scientist is self-glorification: winning at the game of life. Bravo, Anton Leeuwenhoek!

prev
next