Goals Can't Be Avoided
MICHAEL Behe offers the following excellent response to one of his critic's recent allegations that he is misanalyzing evolution by requiring it to achieve specific goals:
[Ken] Miller asserts that I have ruled out cumulative selection and required Plasmodium falciparum to achieve a predetermined result. I'm flattered that he thinks I have such powers. However, the malaria parasite does not take orders from me or anyone else. I had no ability to rule out or require anything. The parasite was free in the wild to come up with any solution that might help it, by any mutational pathway that was available. I simply reported the results of what the parasite achieved.
The "evolution isn't goal directed" tactic is becoming a little too popular, threatening to be the new device by which all doubts about evolution can be reflexively categorized as a failure to understand the theory. Let's expose this device for what it is, right here:
When Darwinists say that evolution isn't "goal-directed," what do they mean, exactly?
Do they mean that evolution can accomplish some modest biological changes, but cannot produce complex machines like the bacterial flagellum? No, they certainly don't mean that.
Do they mean that evolution can produce some complex machines, but not others, and that the flagellum (for example) may fall into the category of things evolution can't do? No, they definitely don't mean that.
Do they mean that evolution can produce any existing complex machines in biology, but may not have produced any particular one of them, such as the flagellum? No, they don't mean that either.
Darwinists maintain that evolution can and did produce the bacterial flagellum, and produced all other biological adaptations (save those made by human genetic engineers).
So what do they mean by evolution being non-goal-directed? Apparently they mean this: If you re-wound the universe to say, four billion years ago, just before life appeared, and you made some trivial, random change to the position of some of the matter on the surface of Earth, then let the universe run forward four billion years, you might not get any flagella at all. You might get other bacterial biological adaptations — maybe better ones or maybe worse ones. You might get things similar to the flagella we know and love, or you might get things very different. You might get no life at all, or you might get much more fantastic life than we see on our planet today.
OK. I have no problem with that. Evolution, if it did produce things like the flagellum, didn't have to. But that doesn't relieve Darwin's theory (or any modern revision of it) from the burden of explaining how the flagellum could have (not did: could have) formed via Darwinian, scientifically plausible steps (i.e. steps that don't fly in the face of any known evidence, nor rely on miraculously improbable chance events) — because the flagellum is here. Either Darwinism can explain it, or it can't. And if it can't, then the scientific question of how it got here requires another (i.e. non-Darwinian) explanation. Does the flagellum disappear into nonexistance, or otherwise require no explanation, just because evolution didn't have to produce it? No, it doesn't. It's still here, and everyone who suffers from scientific curiosity wants to know how it came to be.
The next time you read an evolutionist argument saying that evolution's detractors don't understand that evolution "isn't goal-directed," keep in mind that you're probably witnessing a very slick application of the logical fallacy known as equivocation. Diagrammed, it looks like this: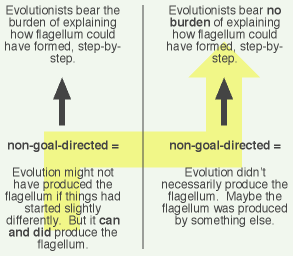 Switch from one definition of "non-goal-directed" to another, in mid-logic-stream, and you can insist that evolution created the flagellum while simultaneously relieving evolution of the responsibility of explaining how — and by the same token, of any responsibility to explain anything.
Using the same methodology, you can also discover many other remarkable insights, such as: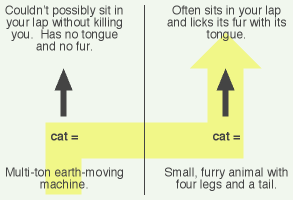 Who knew that multi-ton earth-moving machines sit in our laps and lick their fur with their tongues?
I guess we learn something new every day.

prev
next