Why So Many Computer Guys Hate Apple
EVER notice how much Apple is hated among computer-centric techies? Not all of them, of course, but many. Ever wonder why? Read on, and you'll know exactly why.
The blossoming of computers in the 1960s and '70s created four categories of computer-using people: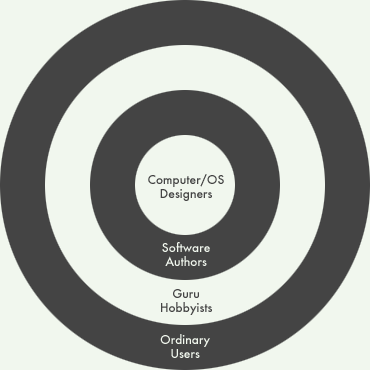 Computer/OS Designers — the smallest group. These are the ones who actually design commercially viable computers and/or their operating systems.
Software Authors — a larger group. These are the ones who write commercially viable third-party software for the computers.
Guru Hobbyists — still larger. These are the guys who don't write commercially viable software, but do write little programs or utilities, and who spend a lot of time tinkering with their computer until they become a gee-whiz expert in how it works.
Ordinary Users — the largest group. These are people who have little technical knowledge of how computers work, but who use them to perform various tasks.
The relative sizes of these groups is no accident; it happens naturally, because:
Having several different computers and/or OSes is confusing and problematic, so there are going to be only a few different successful standards. How many people does it take to design those? Not so many.

But it takes many more people to write all the third-party software that will run on those platforms. So Software Authors is naturally a much larger group than the Computer/OS Designers.

The number of computer enthusiasts who make up the Guru Hobbyist category is naturally much larger than the Software Authors, because the number of technically oriented computer people is much larger than the number of apps needed by users, so only the most talented, creative computer guys will be able to actually write commercially viable apps.

The number of ordinary people who aren't technically oriented, but who would like to use software applications, is very large. And for any commercial app to be successful, it must have a user base many times the size of the person(s) who wrote the app.
What does each group do?
The Computer/OS Designers create the computers/OSes, of course.
The Software Authors write useful apps and/or fun games, and make good money doing it.
The Ordinary Users use the apps written by the Software Authors, running them on the hardware and OS created by the Computer/OS Designers.
But what do the Guru Hobbyists do? Anything? Yes, actually, they do some things. These things:
Provide IT support to the corporate computer users, and receive money for doing so.

Provide computer assistance to friends and relatives, and receive respect and cachet for doing so.

Often pirate the apps written by the Software Authors, for the fun of using them, for the cachet that comes from sharing them with friends and relatives, and for the satisfaction that comes from knowing that, "Even though I'm not a successful Software Author, I got to rip off the creations of the Software Authors for free. So there."
Apple's philosophy seems to be that the Guru Hobbyists lie somewhere between unnecessary and actually troublesome. Starting with the 1984 Mac, Apple has sought to create products that are so clean, polished, and intuitively simple that Ordinary Users can use them without assistance from anyone. Apple thinks that needing help keeping your computer running should be such a rare event that going back to the store where you bought it and asking their Genius Bar for (typically free) help is all the assistance you'll ever need.
So Apple is, in effect, cutting the Guru Hobbyist out of the equation. There won't be so many jobs in IT supporting computers when computers don't need so much support. There won't be much respect or cachet to be had helping your friends and relatives with their computers when they don't hardly need your help.
And piracy? Apple's cleaning that up too: Through a combination of making it truly inconvenient to pirate apps (i.e. hacking your device is risky and troublesome), and making the software super easy to find and purchase, at remarkably low prices, with no expensive publishing or retail middlemen (even Apple may be about to get rid of boxed software in their retail stores), Apple has made piracy pointless — and in the process dramatically boosted Software Author opportunity and productivity. And Apple has ruined the cachet that the Guru Hobbyists got for sharing pirated apps.
The comparison of the original Mac to a "toaster" or "appliance" was apt: No one needs to befriend a Guru Hobbyist for help keeping their toaster running. It just runs. In Apple's way of thinking, if you need a Guru Hobbyist to keep your product running, then the product wasn't really market-ready.
Law & Order
So now it should be obvious why Guru Hobbyists hate Apple. Apple's cutting them out of the game. And since the Guru Hobbyists are the majority of computer guys (who aren't Ordinary Users), then you can expect to see a majority of techie computer whizzes expressing some level of contempt for Apple.
It isn't really Apple's fault. Computers have taken a very long time to grow up into a mature, polished product, but it was going to happen sooner or later. Blaming Apple is just shooting the messenger. If Apple wasn't doing it, some other company most assuredly would be.
And Apple isn't telling Guru Hobbyists to go screw themselves or vaporize off the planet. Apple is, in effect, telling them that it's time for them to grow up: to join the Software Authors; to write real apps instead of tinkering around with settings and utilities and little hobbyist programs and casual piracy and the drudgery of corporate IT administration. It's time to go make some decent money doing something that helps a really large number of people.
A lot of these Guru Hobbyists don't want to hear this message. They're too comfortable doing what they've been doing. They're afraid they won't be able to hack it in the new world. They can't believe that the wild west of computing is really ending, and a productive period of law and order is emerging. They thought the chaotic, early years of computing would just go on forever, only with more powerful hardware. Apple is the natural target of their frustration and disappointment.

prev
next