A Subtle Shift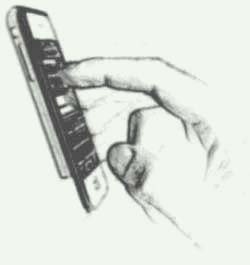 image © Apple, Inc.
LOOK at this ad from Apple, Inc. The hand is obviously male. Is that sexist? I think thirty or thirty-five years ago it would have been, but today — maybe not.
Firstly, the hand has to be one gender or the other. (They could, of course, use an androgynous-looking hand, but since most people don't have androgynous-looking hands, that would seem bizarre.) So, in theory, nothing is really conveyed by using either gender.
But socially, something is conveyed. What, exactly? Does the male hand signify that this product is probably for males? Hardly. Everyone knows that females use mobile phones at least as often as males. Maybe "smart phones" are more often used by males, but we all know that this particular smart phone is not being marketed as a forbidding, tech-guru-oriented device — quite the opposite, it's intended to be more intuitive to use than regular (non-"smart") mobile phones.
Now: What if the ad had shown a female hand using it? That, in our current society, would definitely convey a message that this product is, more or less, specifically for females. So the female hand means "females will use this," whereas the male hand means "everyone will use this." In other words, the female hand means female, but the male hand means males too. The obvious implication of these interpretations is that male activities are, to a significant degree, a subset of female activities. I.e., males have stayed in historically male behaviors, but females have expanded their repertoire to include both historically female activities, and activities that were once male-only.
Just fifty years ago, an ad that showed a male hand holding a product, say snuff, that could theoretically be used by either gender, would have been assumed to mean "males only will want to use snuff," and an ad showing a female hand showing such a product, say a cigarette, would have been assumed to mean "women too, will want to smoke cigarettes." So, it seems, the meaning of gender usage has experienced a subtle yet profound shift. The imagery is the same, but the meaning quite different.
I find parallels in other areas. My wife took my last name, and made her maiden name her middle name (she had no middle name before that). Now she has both our last names, but I have the same one I did before I became her husband. I must share my last name with her (and our progeny), but she keeps her last name all to herself. We both work office jobs. Mine brings home a significant majority of the "bacon" — but she has final say in pretty much all the spending decisions. And I do a lot of the day-to-day housework (dishes, laundry). Some of my friends may call me "whipped" for living in this arrangement, but they're all single — the married ones smile wryly and say, "I hear that," or, "C'est la vie."
History tells of tough men roughing up dancing girls in speakeasies to "keep them in line." Today, in "gentlemen's clubs" the men look up in worshipful awe from a recessed floor at female dancers who take all their money for little more than the privilege of staring at them and conversing about nothing much. The only implementation of male muscle in the place is in the form of beefy bouncers who are paid a fraction of a dancer's take to toss out on his ass any male who gets even slightly "out-of-line."
The positions of the genders didn't change quite the way the leaders of the feminist movement wanted them to, but they did change. It will be interesting to see precisely where the new equilibrium settles.

prev
next