The Size of Things In the Universe
"Everyone [at RIM and Microsoft] was utterly shocked. RIM was even in denial the day after the iPhone was announced with all hands meets claiming all manner of weird things about iPhone: it couldn't do what they were demonstrating without an insanely power hungry processor, it must have terrible battery life, etc. Imagine their surprise when they disassembled an iPhone for the first time and found that the phone was [a] battery with a tiny logic board strapped to it. It was ridiculous, it was brilliant." —former RIM employee as quoted by Edible Apple, December 2010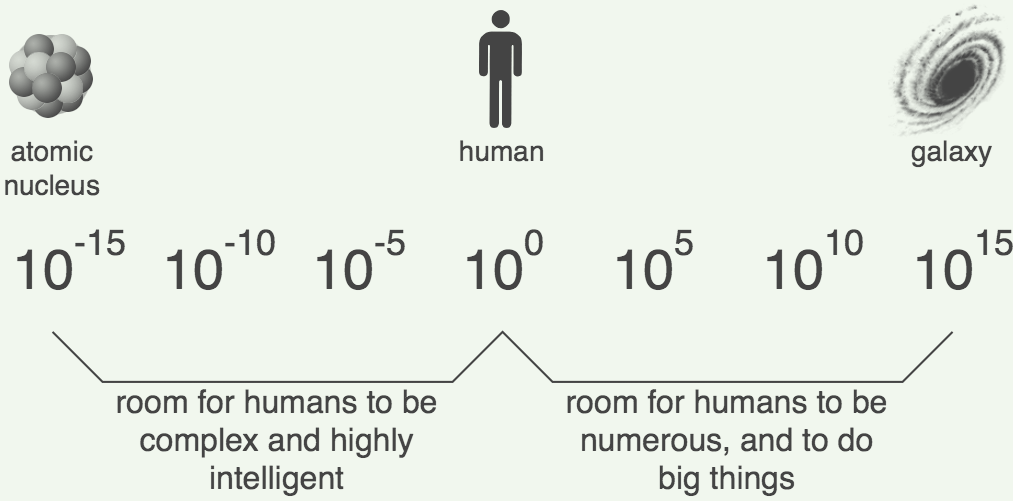 A popular YouTube video asks "How big are the objects floating in our Universe, and how big can they get?" The video proceeds to explain that the gas giants (e.g. Jupiter) are much larger than our planet, our sun is much larger than Jupiter, red giant stars are much larger than our sun, blue giant stars are much larger still, and red supergiants are much larger than that. The largest known star, the video goes on to inform us, is a red hypergiant with a diameter of about 3 billion kilometers. "How can you imagine this size?" it asks, then reminds us that each of our universe's hundred billion galaxies is a large collection of such stars. The video concludes with big, flashing text that reads:
NO, YOU ARE NOT THE CENTER OF THE UNIVERSE!
Wow. Hard to argue with that, right? But there are several things the video didn't say:
Did those words, "NO YOU ARE NOT... etc." come from a hypergiant star? No, they didn't. Did they come from a supercluster of galaxies? No, they didn't. So where did they come from? You guessed it: from a human, living on our planet, Earth. The human who made this video, and posted it to YouTube.
The video didn't mention that our solar system's gas-giant planets are believed to stabilize the orbits of the inner planets (e.g. Earth's), making it possible for life to thrive there for most of the 10-billion-year lifetime of our sun. Nor did it mention that stars much larger than our sun are very short-lived compared to ours, and die early, supernova deaths that release a rich variety of fusion-created elements into space — elements which can later collect to form an Earth-like (i.e. resource-rich) planet that orbits a long-lived (Sol-sized) star.
Also unmentioned was the fact that stars that orbit in a unified manner around a galactic core would be a safe place for life, since another star zooming by would disrupt our solar system massively.
Nothing was said about any objects smaller than humans, such as fleas, bacteria, viruses, and proteins, or pebbles, sand grains, and molecules of air. The video starts with the largest objects with which most people are familiar — the moon, Earth, and sun — and goes up in size from there.
Nothing was said about elephants and whales being much larger than humans, yet having no cities and no advancing technology — such as the technology needed to make and distribute a video like the one above.
Nothing was said about neutron stars and black holes that have much more mass than most stars, yet are believed to be much smaller than Earth — and theoretically smaller than any other object in the universe, even a subatomic particle.
And of course, nothing was said about what the relative size of all these objects has to do with intelligent life being or not being the "center of the universe."
Perspective
I don't think the relative size of the various objects in this universe, from subatomic particles to galactic superclusters, in any way proves that this universe wasn't made specifically for intelligent life. But the idea that it does is amazingly popular. One of the video's commenters said:
Our self awareness counts for nothing in the grand scheme of things. Earth and everything on it could disappear right now and the universe would not be affected in anyway. That [I] think is the main thing to learn from videos like this. We happened to evolve selfawareness and can look around and ask "what is going on?", to think that this ability means the universe was created for us or even that our intrinsic value is [g]reater than that of a star for example, is very mistaken. —"wildbilljam"
The commenter apparently assumes that the "grand scheme of things" is all about immense sizes and distances, and about whether the universe needs human existence in order to be able to process its laws of physics (or something like that?). He did not mention that our best understanding of the laws of physics tells us that Earth and everything on it will not "disappear right now," but will continue to exist. And he did not (apparently) notice that his argument presumes a universe that was not created for us: If all worthwhile apps somehow got accidentally erased or corrupted on my computer, its CPU would continue to run, yes — but only until I unplugged it, reformatted it, and reinstalled the apps. If I didn't exist, then I wouldn't do that. But if I did, then I would.
And it's pretty unclear what physical size has to do with it: Suppose you made a universe that consisted of one room with unlimited oxygen and plumbing, and in the room there was a table, a chair, one intelligent humanoid lifeform, some food and drink, and a few books. Plus a candle for light. Then suppose that the humanoid accidentally tripped, hit its head on the corner of the table, and died. Would the candle immediately burn out? Of course not. (And it's much smaller than the humanoid.)
Perhaps the strangest thing of all about the above-cited commenter, and even more the author of the video itself, is how much trouble they have expended trying to convince inconsequential organisms to believe in their own inconsequentiality. If I thought that humanity was absurdly inconsequential in the grand scheme of things, would I spend hours trying to convince that same humanity of anything? Let me think about it. I've thought about it. No, I wouldn't.
Either there's something about this video's author's thought process that utterly escapes me, or the guy's being intentionally disingenuous for unstated reasons. But then, what do I know? I'm just a teeny, soon-to-be-dead human. My feeble, little logic can't possibly hold a candle to the unfathomably massive wisdom of hypergiant stars.

See also: ID Isn't About Size or Speed
Update 2011.06.04 — room/candle paragraph added; minor phrasing adjustments
prev
next