The Dark Side of Pixel-Aware Font Rendering
JOEL On Software has a nice article about the difference between font smoothing in Mac OS X and Windows. The text of the article, and the graphic example he uses for a demonstration, both give the impression that it's a wash. But sometimes it isn't — take a look at these examples of Apple's Objective-C introductory PDF as viewed in Windows (images doubled in size for close-up view):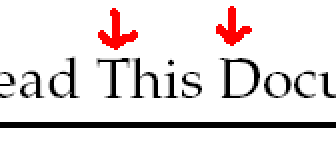 In the first example, some characters are distorted in shape, and in the second example, many words have a goofy, up-and-down wobble going. Maybe this is why Apple didn't go with pixel-aware font rendering.
And even in Joel's examples, is the Windows rendering really more readable than the Mac one of the same text? They both look plenty readable to me, so why not go with the system that's truer to what will come out of the printer, or to what the text will look like when viewed at a higher magnification? (That would be the Mac.)

Update 2007.06.16 — minor grammatical fix
Update 2007.06.18 — John Gruber alerted me that this might be a flaw in Adobe Reader's rendering engine, not Windows's.
Update 2007.07.05 — Another example from the same document:

Do you like the way the dot over the "i" in "kind" hangs off to the left? Yeah, neither do I.
prev
next