What Was Christensen Thinking?
HARVARD professor Clay Christensen famously predicted the failure of the iPhone:
[T]he prediction of [my disruption] theory would be that Apple won't succeed with the iPhone. They've launched an innovation that the existing players in the industry are heavily motivated to beat: It's not [truly] disruptive. History speaks pretty loudly on that, that the probability of success is going to be limited.
And, of course, we all know how that turned out. Even people who seriously stand by the current claim that Android is winning with "80% share" have to admit that the iPhone was an unqualified success: By some measures, Apple is now the most successful company on Earth in any business — and the iPhone constitutes about half of Apple's revenue.
I bring this up not to rub the Harvard disruption king's nose in his error one more time, but rather to start some serious speculation on why and how he could make such a prediction. I've given it a lot of thought (yes, really), and this is my theory.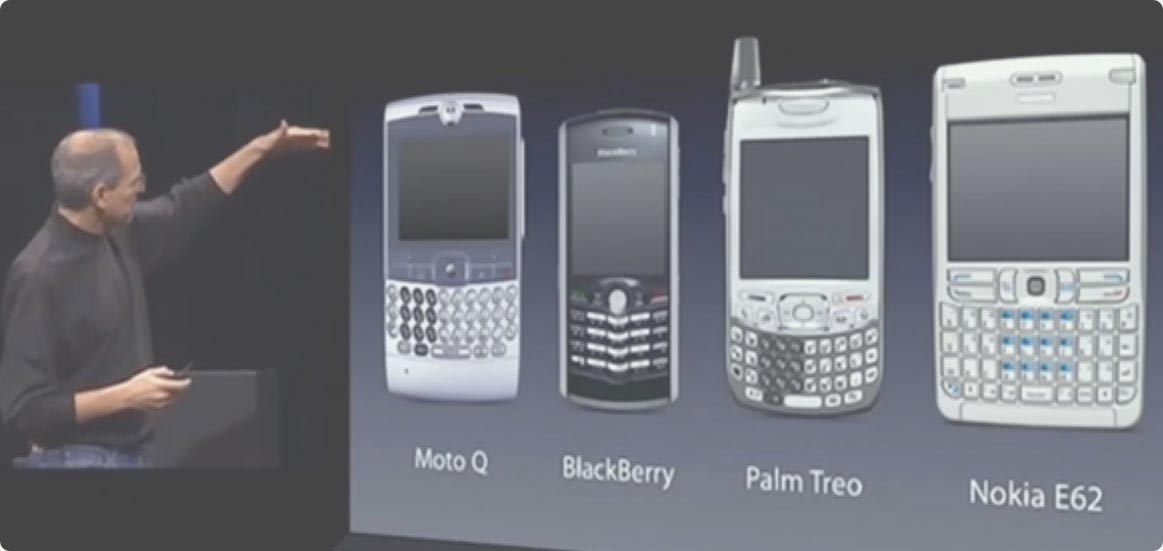 In the above picture, we see Steve Jobs from the early-2007, iPhone-announcing keynote, discussing the merits (or lack thereof) of what he called "the usual suspects:" four very representative smartphones of that time. And it's not too hard to see that they all sucked pretty badly compared to the iPhone.
Now, that's not a for-sure reason to think that the iPhone would win. What if the iPhone was too avant-garde for most people to be comfortable using it? What if the change was too jarring, and the typical consumer decided to stick with "the usual suspects?"
However, if it's at all possible to predict disruptions — and there's been some pretty vociferous defense of the predictive value of disruption theory lately — then common sense says: predict that the iPhone will be a disruptor of existing smartphones. Hedge your bet a little, by tossing in a "possibly?" Sure, why not. But predict the disruption.
Strangely, that's not what Christensen did. And what's even stranger, is that if you read his prediction, he doesn't even really explain what, in his theory, would lead anyone to think that the iPhone wouldn't disrupt those pre-existing smartphones. He specifically says that it is the prediction of his theory that Apple won't succeed with the iPhone. How's that? Because "the existing players in the industry are heavily motivated to beat" it. Huh?? So disruption (asymmetrical competition, whatever) doesn't work if the entrenched industry players are heavily motivated to beat it? Um, wow. OK.
And, "history speaks pretty loudly on that." It does? What history? How does it speak loudly on that? And what happened to disrupting entrenched players with asymmetrical products? Does this "history" speak loudly that such disruption can be blocked by motivated incumbents? In that case, how is disruption supposed to work at all? And even if it works sometimes, how is its success supposed to be predictable?
Thinking about these questions, a distinctly unflattering probability begins to emerge, seeded by something Christensen said the previous year, when asked if he thought a set of recent, tech-industry developments might benefit Apple:
I don't. I think it will allow them to survive for a bit longer.
With this revealing comment as a backdrop, here's my theory about what happened in 2007 with his iPhone prediction. A reporter has invited Christensen to comment on whether the iPhone will succeed. Christensen thinks thusly:
(a) Apple is a struggling has-been. They peaked in the late 1970s and should have died any time between 1982 and the present. It's an incredible freak of luck that they're still around at all. They probably won't exist several years from now. Everybody knows that; it's obvious.

(b) Apple can't succeed with the iPhone because they can't succeed at all; they'll likely be dead soon. And if the iPhone really represents some better way to make a phone, then it'll be ripped off the same way Windows ripped off the Mac. That's just what happens to Apple; everybody knows that, too.

(c) The media seem kind-of excited by the iPhone, like they think it might actually succeed. If I predict its failure, then when it fails (which, of course, it will), I'll look really smart. This is a dream prediction; a sure thing — a gimme!

(d) When I deliver this prediction of iPhone failure, I probably should frame it to sound like it somehow derives from my disruption theory. Why not use a gimme like this to bolster the apparent validity of my main body of work?
And there you have it. Christensen really believed (and perhaps to some degree still does) that Apple just isn't really a successful company. They can't be. They just aren't. Nothing they do can be a long-term success, because they just don't have it in them. Everything they do is unlikely to succeed, and if it luckily does succeed, then it soon will be taken away. We know this about Apple; we know that's what Apple is. Everyone knows it. Just ask around.
I don't pretend to be a mind-reader, and I can't prove anything written here. But if there's any other logical explanation of what Christensen said about the iPhone, I haven't even thought of it. If there's any other sensible explanation, I'd like to hear it. And no, "he was wrong," doesn't cut it. "He made a mistake," isn't the answer. "He admitted later that he got that one wrong," doesn't answer the question. The question is, specifically, how could Christensen have arrived at the particulars of what he said, in mid-2007, about the iPhone, and about its relation to his theory?
I really think I've nailed it. But I'm open to other ideas.

See also:
The Old-Fashioned Way
&
Apple Paves the Way For Apple
&
iPhone 2013 Score Card
&
Disremembering Microsoft
&
What Was Christensen Thinking?
&
Four Analysts
&
Remember the iPod Killers?
&
The Innovator's Victory
&
Answering the Toughest Question About Disruption Theory
&
Predictive Value
&
It's Not A Criticism, It's A Fact
prev
next