Apples To Apples — How Anti-Apple Pundits Shoot Themselves In the Foot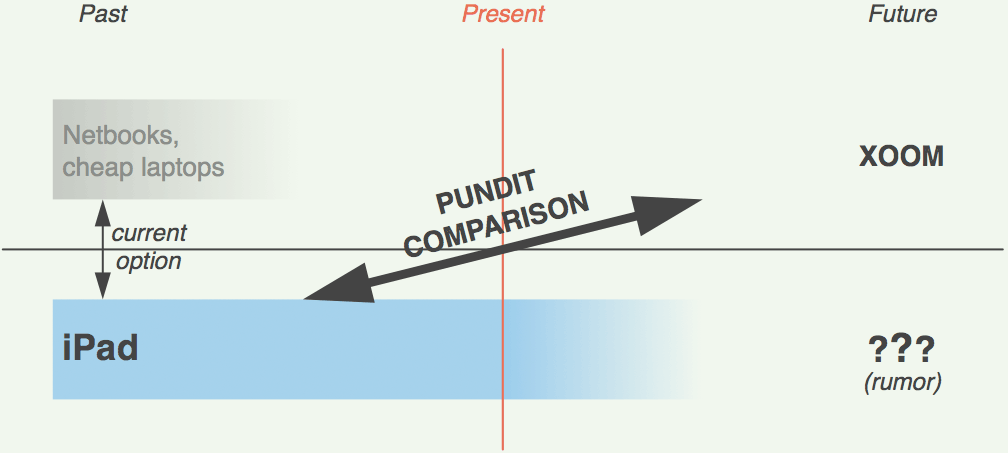 APPLE doesn't talk about their future products, which leaves nothing but unconfirmed rumors and leaks. The leaks are sometimes accurate, but that's almost always close to release date, which doesn't matter much. Three months or more before the (unannounced) release date, there's not much in the way of reliable info. (Especially since Apple can always change their mind.)
But Apple's competitors love to pre-announce their products, and usually with plenty of detail, particularly in the way of hardware specs (megapixels, gigabytes, gigahertz, cores, etc.).
These competitors, eager to create as much anticipation for their not-yet-released product as they possibly can, gleefully take advantage of Apple's silence by comparing their future product to Apple's current product. With at least a year, maybe more like a year and a half, between the release of Apple's product and the future release of the competitor's product, the competitor's product is bound to look better — especially when measured by hardware specs.
Anti-Apple pundits, seeing the opportunity to cast Apple's product in as negative a light as possible, and hopefully thus discourage people from buying it, rapidly accept this comparison as completely legitimate. And even industry pundits who aren't particularly anti-Apple are typically eager to discuss the most current products they can, which results in the same comparison.
This situation has been repeating again and again, at least once per year, for about the past ten years — ever since the iPod came out. And there's no sign it won't keep going for years and years to come.
Sometime around the end of 2010, the situation looked like the above diagram. Apple's current product was the iPad, which had been on the market for something like nine months. The hot comparison was with the Motorola XOOM which was still a few months away. The actual (existing) purchase option was between the iPad and various netbooks and cheap laptops.
By encouraging consumers to compare the iPad to the to-be-released XOOM, the pundits were trying to create the impression that Apple's product is in the past. It's last year's news. The XOOM, on the other hand, is the future. It's so futuristic, it isn't even available yet.
Choice
But what does this actually do to the consumers? If they've been led to believe that their choice is between the iPad and the XOOM — but the XOOM isn't actually available yet — then they're really choosing between buying an iPad or waiting. In other words, either Apple gets a sale, or nobody gets a sale. (Note: It's a good thing for Apple when either Apple gets a sale or nobody gets a sale.)
And what about the consumers who choose to wait? After a while, they find themselves in the same situation, only with everything moved down a step:
Apple's current product becomes the iPad 2, Apple's next future product is still unknown, the pundits are raving about some newly announced tablet product (which I label "FuturePad" for purposes of this diagram), and the XOOM, PlayBook, TouchPad, and other currently-shipping tablets are in the same, unglamorous position that netbooks and cheap laptops were several months prior.
What happens when consumers get tired of waiting and decide to actually buy something? Let's say I'm a typical consumer, it's end-of-2010 (the first diagram), and I've decided that I don't want to wait another several months; I want to buy something now. I can't buy the XOOM, because it isn't out yet. I can either buy the iPad, or a netbook or cheap laptop. Not only does the iPad compare pretty favorably in that choice, but since I've read the pundits enthusiastic comparisons of the iPad to the XOOM, my impression is now that netbooks and cheap laptops (the iPad's real competition) are so passé that they're not even worth talking about.
In their zeal to compare Apple's product to the best possible competitor, the anti-Apple pundits inadvertently persuade me, the consumer, to dismiss out-of-hand all the actually available non-Apple options. And so what do I, the consumer, do?
I buy an iPad. Duh.

Update 2014.03.02 — Three years later, and they're still doing it. Agam Shah in PCWorld:
Qualcomm has leaped ahead of Apple in 64-bit mobile chip development with its first eight-core Snapdragon 615 chip for mobile devices ... The Snapdragon 615 will go into high-end smartphones and tablets, which should become available in the fourth quarter, a Qualcomm spokesman said in an email.
Qualcomm has leaped ahead of Apple's several-months-shipping A7 with their several-months-away Snapdragon 615. So don't buy any currently-shipping Snapdragon phones; they're all outdated crap. Buy an A7 iPhone, or just wait.
prev
next